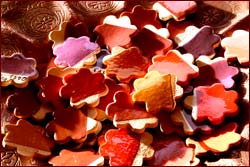 Adults :
10 consecutive cours
290 euros
1 course
35 euros
5 courses
175 euros
Monday
19h00 - 21h30
Tuesday
19h30 - 22h00
Saturday
11h00 - 13h30
Saturday
15h00 - 17h30
Monday
14h30-17h00
---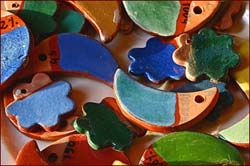 children :
one year
480 euros
10 courses
180 euros
1 courses
20 euros
Wednesday
16 h - 17h30
friday
16h45 - 18h15
wednesday
14h-15h30
---
The pottery classes run throughout the year from September to July, stopping during the school holidays, when instead a series of 5 day courses will be held, Monday to Friday from 1pm to 6pm. (Price 270 Euros).


 
Techniques explored during classes and courses include: coil and slab made pottery, stamping, casting and slip decorating. Classes are open to all, beginners or otherwise.

I only accept six students per class, in order to devote as much time as possible to giving guidance on technique whilst still leaving the maximum freedom as regards your creative instincts. I am always ready to offer a word of advice or a suggestion if you should need it.

Throwing classes and tailor-made courses for individuals are also an option. Please contact me by telephone for further information on prices and other details.

To help you test whether the studio's atmosphere, tea breaks and above all, working with clay are for you or not, the first hour's teaching is free. Reinscriptions are possible, by ten class sessions at a time, at the same price.

You are welcome to pay in monthly instalments.
Material and firing costs are included in the same price.